Who We Are
Alan Bruce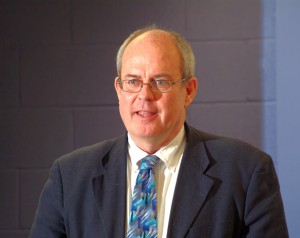 Following schooling in Ontario, Florida and California Alan Bruce moved to Ireland and graduated in sociology from University College Galway. He completed his postgraduate studies in the Universities of Amsterdam and Hull. His research interests centred on regional underdevelopment, social change and marginalization.He taught sociology at universities in France and England and worked in policy research for the European Commission in Brussels. After returning to Ireland, he worked in the development and practice of vocational assessment and guidance facilities for students with disabilities.
In 1987 he assumed responsibility for the staff training and development programs of the National Rehabilitation Board in Dublin. As National Training Coordinator, he was responsible for design and delivery of academic programs for rehabilitation specialists, monitoring of national staff training programs, pioneering of distance learning in rehabilitation studies and management of international projects in the field.
In 1996 he co founded Universal Learning Systems, and has been involved in various European projects in research, evaluation and design with specific reference to social exclusion and marginalization.
Dr. Bruce has lectured and published widely on the social construction of disability, employment policy formulation in equality contexts, planning and strategic change in the social services and diversity perspectives of an emerging European identity. He was Irish Academic Co-ordinator for the distance delivery of the M.Sc. in Rehabilitation Counselling for the University of Illinois at Urbana-Champaign in Ireland. He was co-ordinator of the Diploma in Professional Studies (Managing Diversity) on behalf of Waterford Crystal, run with NUI Cork. He lectures on Equality and Diversity for NUI Galway. He is Adjunct Professor in the Department of Rehabilitation Counselling in the University of Wisconsin at Stout. He is a Senior Research Fellow with the University of Edinburgh.
He has been centrally involved in many international projects. These include development of occupational guidance for disabled students (Finland and Denmark), development of worker co-operatives for marginalized groups (Italy and Belgium), equality education programs (Slovenia) and staff training in psychosocial rehabilitation (Czech Republic, Hungary and Slovakia). He has contributed to new learning initiatives in central China Normal University, Wuhan. He has worked extensively with conflict transformation initiatives in divided communities in Kosovo, Spain and Northern Ireland. He has a particular interest in ethnic diversity and migrant communities in an emerging Europe.
A passionate advocate of innovative learner-centred teaching he has been a long-standing contributor to the work of EDEN (European Distance and E-learning Network). In 2007 he was made an EDEN Fellow in Naples. In 2010 he was elected as Vice-President.